BEST BABY SOUND MACHINES
by Anne Fritz writing for What To Expect for Pregnancy & Parenting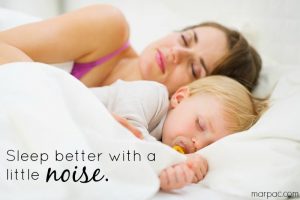 While your natural instinct might be to keep the baby's nursery as quiet as possible when she is fast asleep in her crib, a little sound — provided it's the right kind of sound — can actually help her fall and stay asleep.
Think about it: Your baby's cozy home inside your womb was filled with constant white noise, lulling her in and out of slumber. It can actually be difficult for babies to transition into a silent nursery, which is one reason why baby sound machines are such a popular registry item.
Why use a Baby Sound Machine?
Chances are, your little one's nursery isn't soundproof — which means everything from cars honking outside to your phone ringing in the next room to a noisy older sibling can disturb the baby's sleep. Babies can be startled quite easily by sudden noises, but a sound machine can help drown out disturbances to keep your little one sleeping peacefully.
With sleep being so crucial, especially in those early days, a sound machine can be a lifesaver. (They can also help you get some much-needed winks yourself.)

How do Baby Sound Machines work?
By playing constant, repetitive white noise, sound machines help lull babies' sleep and keep them asleep. It's as if he is back at home in Mom's belly — especially if you use a wave or heartbeat sound.
Some baby sound machines also project lights, animal shapes, or stars on the ceiling or walls to give baby something soothing to watch as his lids grow heavier and heavier.
What to look for in a Baby Sound Machine
Sound machines can have a variety of settings. Some play gentle songs or nature sounds, while others emit simple white noise. All have the goal of gently lulling the baby to sleep. Important features to look for include:
Sound selection
Timer
Automatic shutoff
Portability
Continuous play
Night light
Adjustable volume
AC adapter/battery power
Where to place a Baby Sound Machine in the Nursery
Sound machines are great for helping babies sleep, but you also want to make sure you aren't damaging your little one's hearing. The American Academy of Paediatrics recommends using a machine that's no louder than 50 decibels, so you'll want to place the sound machine about 7 feet away from the baby's crib and use a low volume setting. You'll also want to ensure that the machine is out of your child's reach and any cords are safely tucked away.
Here are the best sound machines for your little one's nursery.
So that you know, What to Expect may earn commissions from shopping links. Why trust our product recommendations?
Best Baby White Noise Machine
Marpac Dohm White Noise Machine
Why We Love It
The Dohm is a classic and has been around for 50 years — which means there's a chance your mom used it with you when you were a baby. This straightforward sound machine doesn't have animal sounds or lights. What makes it so great? Its white noise really does drown out almost all sounds, which may be one of the reasons What to Expect community member StrollerRacer is such a fan: "I bought one for the baby, but my husband and I ended up using it, so we ordered another two," she says.
Best Sound Machine With Battery & AC Power

Why We Love It
This white noise machine has an impressive selection of six soothing sounds, including heartbeat, white noise, and ocean waves. It runs on either AC or battery power for added convenience, and the lightweight design makes it easy to take along on your travels. Adjustable volume and a programmable timer round out this portable package.