Description
No nappy bag should be without the MyBaby SoundSpa Portable machine.
Wherever you and baby go, you can create the perfect sleep environment. Choose from 6 soothing sounds, including heartbeat, white noise, ocean, summer night, thunderstorm and brook.
Do you find bubs wakes easily when you are away from home. Help baby get back to sleep with this portable sound machine for babies.
There's even an auto-off timer. It's also lightweight and easy to carry, for restful, peaceful sleep anywhere you need to be.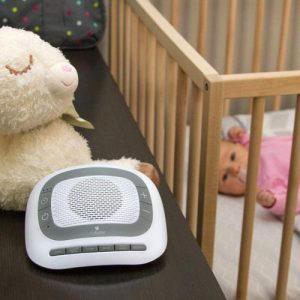 In addition to the white noise profile, this sound machine also has summer night, brook, ocean and heartbeat sounds. The heartbeat sound on this machine was one of the most authentic and natural that we have heard.
The SoundSpa Portable also has a lullaby profile. A timer turns the machine off after 15, 30 or 60 minutes. This baby sound machine also remembers the last volume setting and tone selection, so when you turn it back on, it continues to play the same sound at the same volume.
SIX NATURE SOUNDS
Nature sounds help provide a relaxing experience and a good night's sleep by blocking out noises. This sound machine includes six nature sounds:
White Noise

Rain Storm

Ocean

Rain

Summer Night

Water

NATURAL SLEEPING AID
White noise machines help create a soothing environment, and cover unwanted noises around you so you can fall asleep and stay asleep throughout the night. This machine is great for adults and babies.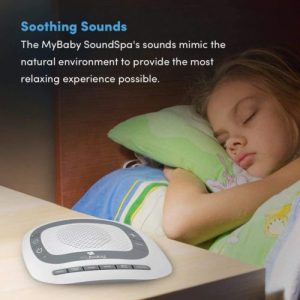 PORTABLE & CONVENIENT
The sound machine is lightweight and portable and can fit in any suitcase so you'll never have to worry about losing sleep while you travel. This machine is battery or adaptor operated.
AUTO-OFF TIMER
You can set a timer that will turn the machine off. The auto-off time includes three options: 15, 30, or 60 minutes.