The HoMedics MyBaby SoundSpa Lullaby creates the ideal environment to lull your baby to sleep.
Choose from six total sounds and lullabies: Heartbeat, Gentle Rain, Ocean, Twinkle Twinkle Little Star, Rock-A-Bye Baby, or Brahm's Cradle Song.
Next, choose from three image projection disks. The image projector casts pictures onto the ceiling or wall, while the sounds soothe baby to sleep. (Images and sounds can operate by themselves or together.) Includes an auto-off timer that's perfect for naptime!
SIX SOUNDS & LULLABIES
The Soundspa Lullaby is the perfect addition to your baby's nursery, and will help them fall asleep. Three soothing sounds and three classic lullabies are included in the sound machine, creating a relaxing environment for your baby.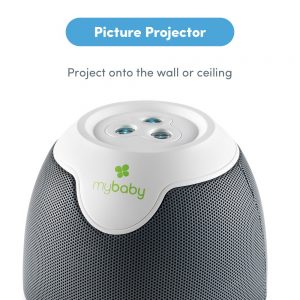 PICTURE PROJECTION
The built-in projector comes with a one image disk that features three diverse scenes that casts a soothing image onto the ceiling or wall. Rotate the disk to change the scene and choose your baby's favorite view.
Lots to look at! Colourful and interchangeable themes to helping keep calm your baby. You're in control.
Play any sound and image together, or try them separately.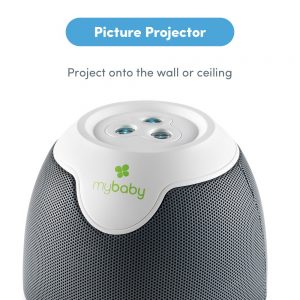 SOUNDS PLUS SCENES
You can set the SoundSpa Lullaby to play the sounds, project different images, or do both at the same time for a comforting sleep environment for your infant. Music to your little ones ears, start a nightly ritual of lullabies or nature sounds. This helps let Bub know that it is time for sleep, forming this routine is a great way for baby to relax knowing it is bedtime.
Bedtime is now the best time for baby — and you.
This HoMedics SoundSpa has three natural sounds, including a heartbeat, as well as three soothing lullabies to help your child softly doze off. Plus, it projects whimsical images on the ceiling for baby to enjoy. A true must for any nursery.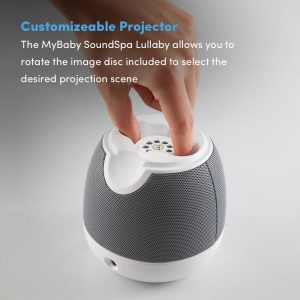 AUTO OFF TIMER
Nap time anytime! Conserve energy with the auto-off timer that lets you set your experience for 15, 30, 45, or 60 minutes. The machine also features an adjustable volume control.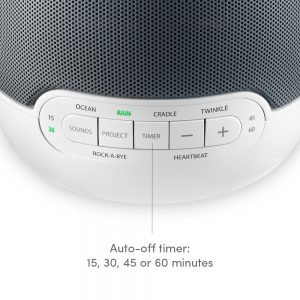 COMPACT & DURABLE
The SoundSpa Lullaby is the perfect size and is small enough to fit in your suitcase or diaper bag so your baby can continue to have peaceful sleep even on-the-go. AC adapter driven.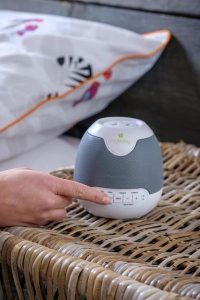 Sounds & Projection
3 Natural Sounds
Heartbeat
Gentle Rain
Ocean Waves
3 Lullabies
Twinkle, Twinkle
Rock-a-Bye Baby
Brahm's Cradle Song
Picture Projection
Includes image disc with 3 diverse scenes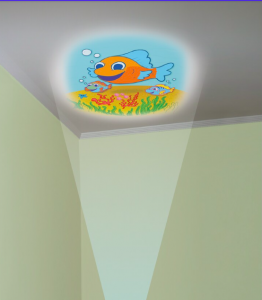 Automatic Timer
15, 30, 45 or 60 minute auto-off timer
Mains Powered