Looking for the perfect way to get a good night's sleep? Look no further than Marpac Whish White Noise Sound Machine! It comes with eight different white noise options, so you can find the perfect sound to help you drift off to sleep. Plus, there are nature sounds, sleep songs, and meditation soundtracks including fan and the popular 'signature sound' of the Marpac Dohm.
Whish works all night long to drown out the random noises that would have woken you or your baby. Fewer disruptions equal a more solid and deeper sleep helping you to rise feeling more rested and restored.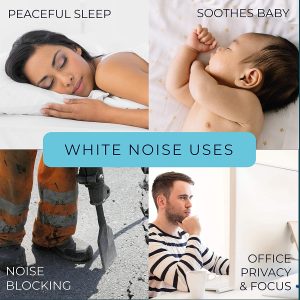 Perfect For
Babies and Children
Light Sleepers
Studying
Apartment Living
Noisy Environments
Snoring Spouses
Tinnitus
Shift Workers
Meditation
Offices
Features
Masks background noises, for a better night's sleep
16 sound options, including Marpac's signature white noise
Timer options and robust volume control
Compact yet powerful
Uses a USB cord plugin – no batteries required
About Marpac White Noise Machines
Over 50 years ago, Marpac founder developed the original Dohm Sound Screen Sound Conditioner because he was having trouble sleeping. It worked so well, he made it available to his friends and family and ultimately the world.
Today, the Sound Screen is still the most economical, most popular sound conditioner on the market.
16 Sound Options
The Whish gives you more sound options for less. Choose four signature Dohm sounds, four high-quality white noise options, four relaxing nature recordings, and four soothing sleep songs. The songs were exclusively developed by esteemed sound studio Xhail, all composed at 60 beats per minute which is scientifically proven to be most relaxing to body and mind. Fall asleep to songs composed in the key of ZZZ!
Blocks Outside Disruptions
Gently blocks disruptive sounds of the outside world in your home, office, hotel room, or vacation home. Effectively buffers outside noise from loud neighbours, barking dogs, snoring partners, chatty coworkers, and city sounds. Also helps with managing tinnitus symptoms.
Privacy and Concentration
Use white noise in your office, study, or classroom to minimize outside distractions so you can focus on the task at hand. Sound machines are a low-cost way to ensure sensitive topics and discussions are kept confidential in your private practice or waiting area.
What's in the Box
Whish White Noise Sound Machine
USB Charge Cable (compatible with any USB power adaptor)
Instruction Manual
PLEASE NOTE – This does not come with a USB Power Adaptor. It comes with the USB cable which is compatible with any USB power adaptor.
Physical & Electrical Specifications
SIZE: 15.5 x 9 x 17 cm
WEIGHT: 590 grams
MATERIAL: ABS Plastic
COLOUR: White
POWER: USB cord
STANDARDS: UL Listed-U.S. & Canada
YogaSleep White Noise Comparison Chart
DOHM NATURAL SOUND MACHINE
WHISH MULTI-SOUND MACHINE
ROHM TRAVEL SOUND MACHINE
HUSHH COMPACT SOUND MACHINE FOR BABY
GO TRAVEL SOUND MACHINE
TRAVEL MINI SOUND MACHINE
Feature
Modern Style

Original White Noise Machine

Widest range of Volume and Control
Travel size

Portable

No batteries needed

Compact and portable.

Nightlight and Child Lock

Travel sized – No batteries needed Adjustable Stand and Hanger
Travel sized with Nightlight
Price
$119.95
$99.95
$79.95
$79.95
$79.95
$79.95
Colour
White
White
White
Grey
White
White
Sounds
Natural Real Fan Sound – adjustable for near infinite tone choices

(high /low)

No Recorded Loops

16 Sounds:

4 Dohm sounds,

2 fan, 2 white Noise, 4 nature and 4 specially composed "Sleep Songs" multi-sound electronic

3 electronic sounds.

White Noise, deep white Noise, or gentle surf

3 electronic sounds.

White Noise, deep white Noise, or gentle surf

11 electronic sounds.

White Noise, deep white Noise, or gentle surf

6 electronic sounds.

White Noise, brown noise, stream, gentle surf, Dohm or thunderstorm

Volume Control
2-speeds with range of fine tuning
yes
yes
yes
yes
yes
Adjustable Tone Control
yes
no
no
no
no
no
Battery
no
no
yes – USB rechargeable
yes – USB rechargeable
yes – USB rechargeable
yes – USB rechargeable
Timer
no
yes
no
no
no
no
Cord Length
6′ power cord
3′ micro USB cord
3′ micro USB cord
3′ micro USB cord
3′ micro USB cord
3′ micro USB cord