LectroFan is the most versatile fan-sound and white-noise machine for relaxation, study, and speech privacy. It's also your personal white-noise and fan-sound machine to ensure a better night's sleep and peaceful rest.
Ensure a Better Nights Rest
Your personal white noise and fan sound machine to ensure a better night's sleep and peaceful rest.
What is White Noise
White noise, by the technical definition, is a consistent noise that comes out evenly across all hearable frequencies. White noise is just an equal amount at every frequency, from low to high, that a human being can hear.
When a noise wakes you up in the night, it's not the noise itself that wakes you up, per se, but the sudden change or inconsistencies in noise that jars you from your slumber. White noise creates a masking effect, blocking out those sudden changes that frustrate light sleepers, or people trying to fall asleep.
"The simple version is that hearing still works while you're asleep," says Seth S. Horowitz, a neuroscientist and author of The Universal Sense: How Hearing Shapes the Mind.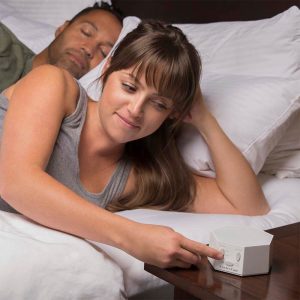 Our classic, best-selling ASTI model offers ten pure variations of white, pink and brown noises, plus 10 fan sounds for masking disruptive noise while you're sleeping or working. They're all unique, digitally synthesised and non-looping. Equiped with a sleep timer, and seven sleep settings for every situation, our sleep therapy machine comes loaded with options for every sound masking situation. 
LectroFan's non-repeating (temporal variable) white noise and fan sounds are dynamically generated using an algorithm that creates a truly random sound. Other white noise machines use looping sound clips that wakes up your brain, while others use actual fans that can't get loud enough to block out anything. LectroFan has adjustable volume control to mask all levels of noise and a timer for those mid-day naps.
The Most Versatile Fan Sound & White Noise Machine
The LectroFan is ideal for:
Relaxation
Study
Speech Privacy
Anywhere that you want to control your sound environment
A Simple Design with Loads of Features.
FEATURES INCLUDE:
20 Unique Digital Sounds (10 Fan Sounds + 10 White Noises)
Excellent Noise Masking (Up to 20dB louder than competing machines)
Precise Volume Control (1dB increment control for 10x quieter–10x louder than fan machines)
Small, sleek and stylish functional design
Upward facing speakers for full room sound
Built-in Timer Function for gentle turn off in 60, 120, 180 minutes or left on all night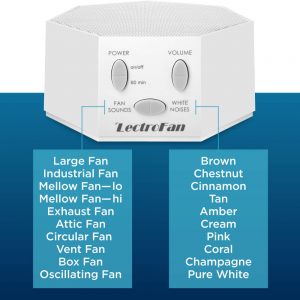 Twenty Unique Digital Sounds
A lot of power lies behind the easy-to-use control panel. Enjoy ten non-repeating unique fan sounds, and ten non-repeating unique white noise sounds. A sleep timer automatically shuts down after you've drifted off to sleep. Power is provided through a USB cable with an AC adapter, so you can operate it from a wall outlet or any powered USB port.
It's also your personal white noise and fan sound machine to ensure a better night's sleep and peaceful rest.
This sound machine is compact and portable, making it the perfect white noise device to take with you on your next business trip, vacation, or family adventure.