Description
A lightweight Sleep Mask designed to block all light, ensuring you a peaceful sleep in comfort day or night
Fabulous Design with 100% Light Blocking
This light weight mask features a deep eye cavity design so that your eye lashes won't touch the back of the mask theres nothing more troubling when you are trying to get to sleep,
Want Total Darkness?
The front of the Total Eclipse is a flexible and light.  The back is a soft, lined foam that conforms to your face to help eliminate light leaking in.
With a fully adjustable elastic band strap, this mask will allow you to achieve a perfect fit. The strap also features a unique and handy earplug holder, therefore when you are travelling you'll have your earplugs right at your finger tips.
Available with a Writable Surface!
Ever taken a flight, fallen asleep and woken to discover that you have missed your meal? Our Total Eclipse Sleep Mask with a white writable surface will ensure this doesn't happen again.
Let your flight attendant know that you would like to be woken for meals or left to snooze with a "Do not Disturb" and sleep soundly until you want to be woken.
This new design not only blocks light but also has an erasable writing surface. It essentially turns your face into a notepad! Have fun leaving notes for your partner!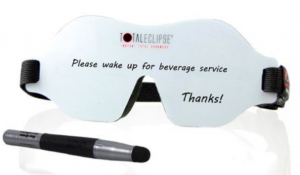 Features
Superior Light Blocking
Thick Profile for ultimate comfort
Sleep mask secure with Velcro Fastener
Ear Plugs Included
Effective
Blocks ALL light so you experience TOTAL DARKNESS
Includes a FREE pair of ear plugs to help minimize noise & give you the perfect sleep
Convenient ear plug storage integrated into strap
Comfortable
Fleece lined comfort foam conforms and contours to your face for a perfect fit
Adjustable elastic strap allows user-customized fit
Eye cut-outs eliminate pressure on eyes
Useful
Great for traveling
Great for relaxation and meditation
Great for headache or migraine relief 
How the Eclipse came about...
The idea was sparked by inventor and mechanical engineer, Jason Lichtman, CEO and founder of Eclipse Products LLC.
"I travel a lot and I've been frustrated by missing airline meals and drinks, especially when they don't serve them as often as they used to," Lichtman told the Airline Passenger Experience Association. "I realised it is all about communication or the lack thereof.
"The flight attendant just needs to know what you want. And if you had a sleep mask on that said, 'I'd like to be woken up for meals', they would wake you up or 'Do not disturb', they wouldn't disturb you – unless, of course, they absolutely needed to."