Tired of not getting a night of good sleep when travelling? Can't sleep when flying? Do you wake up with a stiff neck? Or worse still, laying on a strangers shoulder beside you? Do you snore when travelling?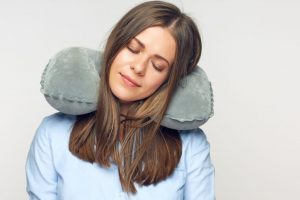 The unique ergonomic design of the Dream Essentials Travel Pillow provides you with proper support whilst on the go.
It will help to prevent tension and strain in the neck and shoulders so that you arrive at your destination a lot more comfortable and relaxed.
The special bolsters prevent your head from swaying from side to side and they support your head and neck in a more comfortable upright position. What's great about this pillow is that it inflates in seconds and easily deflates for compact storage to be stored conveniently in its own pouch.
Made with comfortable soft felted material, it is flexible and fits most necks.
Do you like to travel light? Here is the perfect combination of space-saving and comfort. Use the Dream Essentials Travel Flat Pack Neck Pillow on your next travel experience and simply relax while resting happily.
The Dream Essentials Travel Flat Pack Neck Pillow is a very easy to use inflatable neck pillow with a cover made of soft materials that will add an extra layer of cozy feeling when used against your skin.
So many people fear flying/travelling because they are troubled by the likelihood that they will snore when they fall asleep.
When we fall asleep sitting up, our head falls back, which often causes the tongue to also falls back and block our airway. By using a travel pillow your head remains in a more upright position or alternatively, comfortably rests to the right or left side. This enables an unrestricted airflow, lessening the likelihood of embarrassment by upsetting your fellow travellers with your snoring.
The tongue often falls back and blocks the airway, but this is less likely to occur if you are sitting up.
Snoring occurs when your airway becomes obstructed. Often by simply opening the nasal passage and allowing air to flow alleviates snoring. Our Macks Nasal Breathing devices for snoring work a treat!