Description
Your baby is so precious. Their little head needs special protection, especially when they are a newborn.
Give them the care and support they need with an infant car seat head support.
Every new parent worries about their babies head flopping forward in their car seat.
Perfect Support for your Newborn or Toddler! Our head support is fully adjustable so it will grow as your little one grows.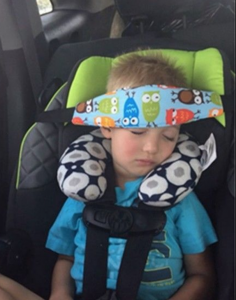 Cute Patterns
Creative Kids head support band, Relieves neck strain
Very Comfortable.
Elastic band, adjustable plastic buckle.
Suitable for car seats, strollers, etc.
Material: Cotton
Size: Cotton Belt Length 30cm, Width 8cm, Back Belt 70cm
Good for child's head support relieves neck strain for sleepy toddlers.
Head Strap Size: approx. 27.5 x 4.3cm / 10.8″ x 1.7″ (L x W)
Widest: approx. 8cm / 3.1″
The length of the adjustable strap approx. 70cm / 27.5″
Enjoy a long, relaxing drive and let your kids' "bobbing heads" have a rest, while you peacefully reach your destination. Your kids will enjoy a sound nap, allowing you to concentrate on the road
You don't want the extra stress of worrying if your little one's head is upright and or to the side.
When your baby's head falls forward and their chin rests on their chest the flow of air in their airway becomes restricted.
Newborns, in particular, do not have strong enough muscles in their nex to be able to pop their head up again