Use white noise in your room, office, study, or classroom to minimise outside distractions, so you can focus on the task at hand. White noise is an effective and low-cost privacy tool for masking your conversations.
Yogasleep Duet Sound Machine
USB cable
Manual
Create a Sleep Oasis
This multi-sound white noise machine and night light works double-duty as a wireless speaker all in one compact & streamlined device.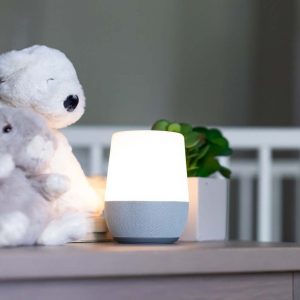 Stream Wirelessly from your Phone
Stream your favourite sleep soundtrack, podcast, or music from your smartphone or device directly to the Duet speaker with a robust volume range.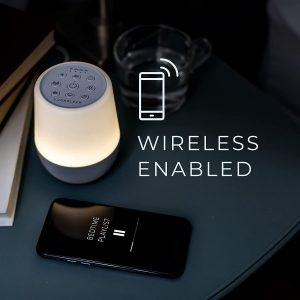 Even More Sounds & Features
Play white noise, pink noise, soothing nature sounds, lullabies and more. Choose from 30 soothing sounds, set a sleep timer, stream your favourite song, or cast a warm glow with the night light. The Duet has everything you need for a restful night and restorative morning.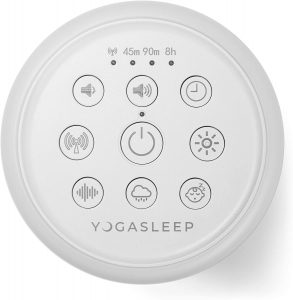 Soft, Warm, Soothing Night Light
Gradient brightness night light perfect for night wakings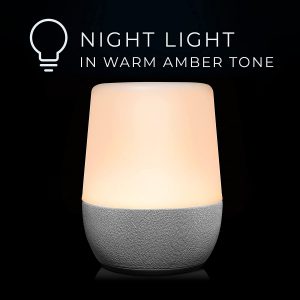 Volume in Decibels
The Duet Wireless Sound Machine is volume adjustable up to 83.9 decibels!
83.9 dB at 30.5 cm (12 inches)
76.7 dB at 1.83 m (6 feet)
How Does White Noise Work?
White noise smooths out your audible environment to minimize disruptions that can lead to poor quality sleep and interfere with sleep cycles.
The Duet White Noise Machine is a natural approach to the quality sleep you and your family deserve. Yogasleep has 50+ years of making the best white noise machines for home, baby, and work. Great sleep shouldn't be a luxury – it's the foundation of a healthy lifestyle!
Please note – This unit is not rechargeable. Power adaptor plug not included. Please use a good quality adaptor to power your Duet sound machine.