The best little Sound Machine that you will find to help lull your baby to sleep, with a great variety of sounds to choose from including, you will never have to worry about your older toddler, the neighbours, your phone ruining  or your dog barking waking your little one again.
Whats even better about this sound machine is it is so compact that you can take it anywhere! Perfect for in the car, or portacot when on holidays or for sleep time at grandmas or daycare!
A Small Wonder for Big Sleeps!
Lectrofan Alpha is the small wonder that you'll want to take with you anywhere you go with your little one.
Stay productive and get your shopping done whilst baby sleeps, just pop this fantastic sound machine on your pram and your toddler is soothed to the comforting sounds he or she knows from bedtime at home whilst blocking all that loud noise from the shopping centre.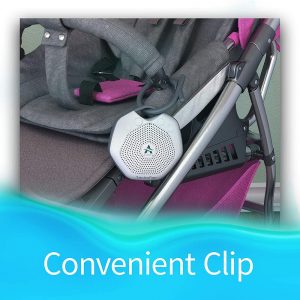 Help you Baby or Toddler Get a Better Sleep
No more need to tip toe around the house to avoid making noise and waking the baby! LectroFan Alpha plays soothing, simple sounds that help mask distracting noise that's stops your baby from getting to sleep and or staying asleep.
7 Soothing High Quality Sounds for Baby
It plays your choice of seven gentle, soothing sounds
1 Heart Beat

2 Different Fan Sounds

2 White Noise Variations (Pink and Brown Noise)

2 Different Ocean Wave Sounds.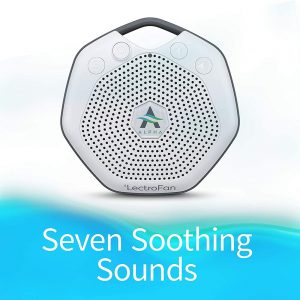 No Batteries Needed
Built-in battery recharges with the included USB cable, or use any standard USB cable. Each charge lasts 40 hours at normal volume!
Perfect for Travelling
The Alpha is a great portable white noise machine and comes with a super handy clip for easy transport between cot, stroller, and car seat. It has a built in stand that folds back into the machine so that you can easily pop it into your handbag or luggage.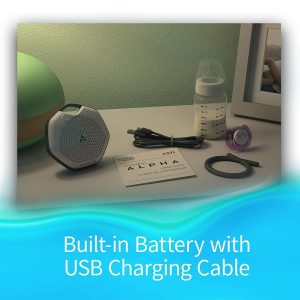 Quality Made
Manufactured by Adaptive Sound Technologies, the Lectrofan Alpha is designed in the USA and backed by a great customer care team.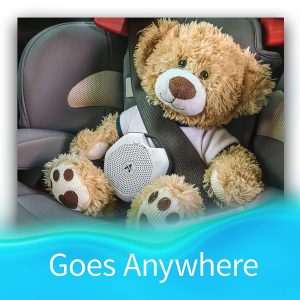 It recharges with the included USB cable, so there's never a need to bring batteries, and it plays for up to 40 hours per charge at normal volume. The included clip makes it easy to attach to car seats, cribs, strollers, or just about anything.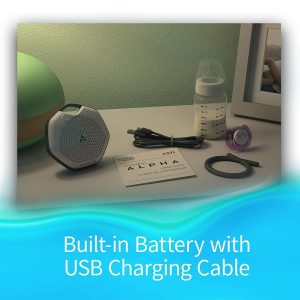 | | |
| --- | --- |
| Package Contents | LectroFan Alpha, Quick Start Guide, USB charge cable |
| Connectors | USB-C |
| Product Dimensions | 1.8 x 4 x 3.8 inches |