Description
The Ellia Gaze Aroma Diffuser Ceramic White has a geometric and pottery-inspired design which adds a warm style to any room.
Offers soothing sounds and light effects, while enhancing humidity levels to calm your senses and uplift your mood.
Consciously crafted from ceramic and wood, it gently lifts the scent of your favourite essential oils into the air to transform the mood of your space. The Gaze Diffuser comes with:
Convenient remote control
150 ml water tank that delivers up to 6 hours of continuous runtime and up to 12 hours of intermittent use
Gentle Glow Colour changing light with 7 colours of the rainbow
Convenient Remote: Control functions from a distance
Alleviates Dry Air
Four soothing and uplifting sounds create a peaceful environment
FREE Essential Oil Starter Pack
Each Gaze Ceramic Diffuser comes with a free essential oil starter pack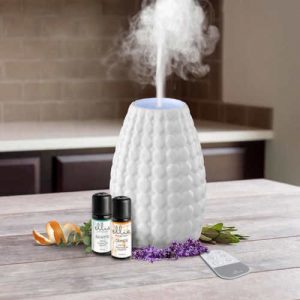 Sleep well with comfort and convenient sleep!
Everyone experiences stress; after all, it's a normal part of life. Whether you have too much on your honey-do-list or you just need more sleep.
This beautiful diffuser gently lifts the aroma of Ellia Essential Oils into the air to help you reduce stress, boost mental clarity, and soothe your body and mind. Ellia Diffusers are beautiful, functional centrepieces that add natural style to your home.
Transform your space and spirit
Take a moment and breathe, release all negativity and worry. Reduce your stress and recharge your body. With the wide range of beautiful essential oil diffusers, you can add natural style to any room.
Changing Light Effects and Soothing Sounds
Creating a peaceful environment in your room, the Ellia Gaze Ultrasonic Aroma Diffuser has colour-changing light effects and can play soothing sounds.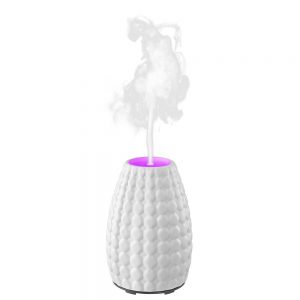 Convenient Remote Control
You can conveniently configure its functions even from a distance using the Ellia Gaze aroma diffuser's remote control.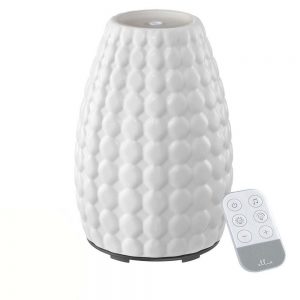 Exceptional Runtime
Thanks to its 150 ml capacity and long-lasting runtime of up to 7 hours of continuous use and up to 12 hours of intermittent use, you can keep your room environment continually fresh.
Aroma Mist
Your diffuser has two mist options. Press the power button once for continuous mist, which will run for up to 7 hours. Press again for intermittent mist (30 seconds on, 30 seconds off), which will run for up to 12 hours. Press a third time to turn the mist off. When your diffuser runs out of water, it will automatically shut off.
Colour-Changing Light
On the remote control, press the light button once to turn on the colour-changing light. Press again to stop on a preferred colour. Press a third time to turn the light off.
Play Relaxing Sounds
Press the music button on the remote once to play the first track. Press again to switch to the next track. Press and hold to turn the music off.