Looking for the ultimate in luxury to add to your bedtime routine. Feel pampered in our new Redolence Aromatherapy Plush Sleep Mask, settle into bed as it comforts your face and eyes like a pillow to block all unwanted light to help you sleep better.
This premier luxurious sleep mask is slim-line, ultra-comfy and 100% light blocking.
The micro-plush sleep mask features a built-in pocket for an aromatherapy pad to help you get to sleep and stay asleep.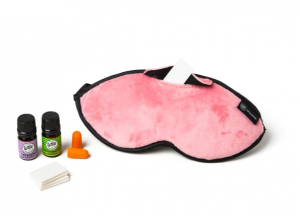 What's in the Box?
The Wild Essentials Aromatherapy sleep mask kit includes
1 Plush Opulence Sleep Mask
1 x 5ml Lavender Essential Oil
1 x 5ml Peppermint Oil
5 Refill Pads
One Pair of Earplugs