Looking for the ultimate in luxury to add to your bedtime routine. Feel pampered in our new Redolence Aromatherapy Plush Sleep Mask, settle into bed as it comforts your face and eyes like a pillow to block all unwanted light to help you sleep better.
This premier luxurious sleep mask is slim-line, ultra-comfy and 100% light blocking.
The micro-plush sleep mask features a built-in pocket for an aromatherapy pad to help you get to sleep and stay asleep.
Lavender Essential Oil
Use the sweet aromatic lavender essential oil to help you relax, unwind and induce sleep.
Peppermint Essential Oil
Use peppermint when you might be feeling a little stuffy or if you have a headache to help relieve pressure or use a combination of both oils for the ultimate sleeping experience!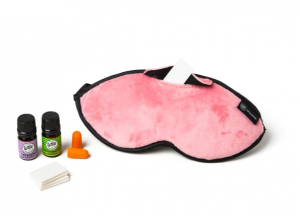 QUALITY GUARANTEED 100% Pure Essential Oils
Wild Essentials Single note essential oils are 100% pure, undiluted, quality essential oils that are distilled and bottled in the USA. We use a chiral GC testing protocol to verify the quality and authenticity and each oil is tested twice to ensure you get the best quality essential oils!

Each bottle is labelled with the official botanical name and origin of the plant from which the oil was sourced from.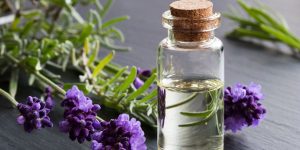 What's in the Kit?
The Wild Essentials Aromatherapy sleep mask kit Includes
1 Plush Opulence Sleep Mask
1 x 5ml Lavender Essential Oil
1 x 5ml Peppermint Oil
5 Cellulose Refill Pads
One Pair of Earplugs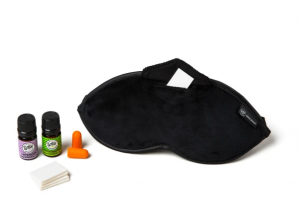 Directions
Use 1-3 drops of essential oil on one of the cellulose pads and let sit for several seconds so the oils fully soak into the pad.
Place the pad inside of the pocket of the sleep mask
Put the sleep mask on and enjoy your sleep!
Mask can be hand washed and let air dry
Pads should be discarded when they begin to lose absorbency (refill pads are available for purchase separately)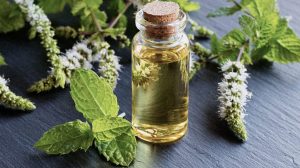 Sleeping Mask Features
The head strap is wide elastic and adjustable with a Velcro attachment
100% light blocking for effective sleep and relaxation
Ultra-comfortable using natural cotton for sensitive facial skin
Convenient built-in pocket for aromatherapy pads
Inside of Mask
The fabric which rests over the eye area and on the face is plush, fully breathable, 100% cotton interlock padding that cushions the eyes without pressure. A black-out fabric is stitched within the body of the luxury sleep mask to ensure that no light can reach the eyes.
Outside of Mask
The fabric on the outside of the mask is a soft, silky micro-plush. The outside fabric defines the look and feel of the mask. Includes an adjustable Velcro elastic strap for a secure and comfortable fit.
 Care
Hand wash in cool water.
Lay flat to dry.