The Infinity™ Sleep Mask maintains its name as the No 1 eye mask in blocking out the light.
The silky, soft double-velour fitting fleece design makes for the ultimate in comfort.
The infinity features a snug and cosy fit and an ergonomic design, created so that the mask does not place any pressure on the eyes.
100% light blocking for effective sleep and relaxation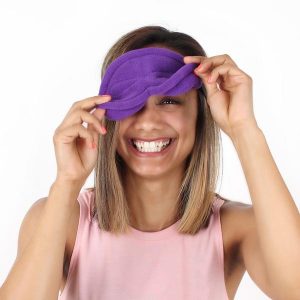 Handmade Quality Sleep Mask
Hand Made with Love in Canada.
A soft, silky padded fleece roll surrounds the outside edge of the mask, which creates a total barrier to light whilst still allowing the mask to breathe.
Snug Fit, Ergonomic Design
Extreme Comfort
The Infinity Sleep Mask provides the ultimate in comfort while completely blocking out any light. Made with soft, silky double-velour fleece, the Infinity Sleep Mask is sure to be treasured for years to come.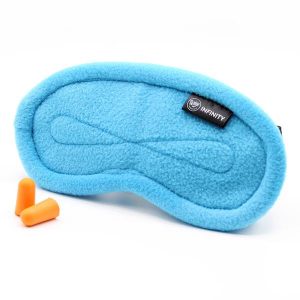 Features
100% light blocking for effective sleep and relaxation
Durable, soft and silky, double-velour fleece for ultimate comfort
No pressure on the eyes – won't smudge eye makeup
Made in Canada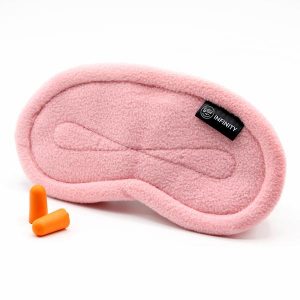 Outside and Inside of Sleeping Mask
The outer edge of this fleece eye mask is surrounded by a soft silky stuffed fleece roll that allows the mask to breathe, while maintaining a barrier to light. This roll is soft to the face and holds the mask away from the surface of the eyes.
The eye surface of the mask is made using a blackout fabric sandwiched between two layers of interfaced double-velour fleece. Then all layers are stitched together using an infinity symbol, so no layer of fabric will touch the eyes. This detailed process ensures the serviceability of the mask while wearing and laundering.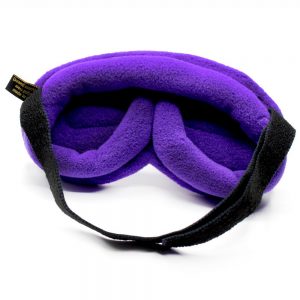 Strap Details
There is an adjustable, stretchable Velcro elastic strap on this fleece sleep mask for a secure and comfortable fit
Care
Simply hand wash the mask in cool, to warm, soapy water, then lay flat to dry.
"I am a connoisseur of sleep masks and this is by far the best one I have found. It is so comfy. But that aside, when I was on a plane recently I realised how powerful it was… I put on the mask on the bright light coming through the window and put a large fleece over my head and there was no difference! This mask makes things as dark as they can get. You could be on a beach at noon and sleep like it's midnight in a cave with this thing. But this way you have all the comfort without the cave. Okay, that's all." Tracey B
"What a godsend this mask has been! I am a light sleeper and the summers would see me wake up much earlier than I'd have liked to, because it is light outside. I bought the mask on a whim after reading the reviews, but now I don't go to sleep without it.
1) Very comfortable and a good size – the fleece feels good, the temperature stays close to the body (unlike silk lined masks that feel cool). It's also 'substantial'…i.e. doesn't feel flimsy
2) The adjustable velcro strap doesn't get caught in my hair and stays securely fastened
3) The design is such that your eyes don't press against the fleece – there is a 'cup' like area that your eyes rest against, and this allows you to blink comfortably.
4) Really keeps the light out, and does that make a difference to how rested you feel, when you wake up!
 I am very pleased with the product!" Dipika