Consciously crafted from ceramic and wood, it gently lifts the scent of your favourite essential oils into the air to transform the mood of your space. The Gaze Diffuser comes with:
Convenient remote control
150 ml water tank that delivers up to 6 hours of continuous runtime and up to 12 hours of intermittent use
Gentle Glow Colour changing light with 7 colours of the rainbow
Convenient Remote: Control functions from a distance
Alleviates Dry Air
Four soothing and uplifting sounds create a peaceful environment
FREE Essential Oil Starter Pack
Each Gaze Ceramic Diffuser comes with a free essential oil starter pack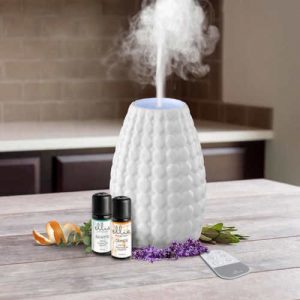 Sleep well with comfort and convenient sleep!
Everyone experiences stress; after all, it's a normal part of life. Whether you have too much on your honey-do-list or you just need more sleep.
This beautiful diffuser gently lifts the aroma of Ellia Essential Oils into the air to help you reduce stress, boost mental clarity, and soothe your body and mind. Ellia Diffusers are beautiful, functional centrepieces that add natural style to your home.