Description
Glo to Sleep is a super lightweight, comfortable sleep mask that uses gently dimming light to help you fall asleep naturally.
Switch off your mind and enjoy a peaceful, relaxing and natural sleep
Sleep issues are often the result of an overactive mind at bedtime. Sound Oasis Deluxe Glo to Sleep will help you focus your mind on the process of relaxation and sleep – most importantly, you can get to sleep naturally and effectively.
Sleep therapy with built-in convenience
Whether it's for a full night's sleep or just for a nap, this unique, patent-pending technology will help you fall asleep quickly, stay asleep longer and wake up feeling rested.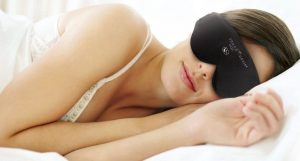 Blue points of Glo inside the mask help you focus your mind on the process of relaxation and sleep – naturally and effectively. This meditative approach calms your mind as it effectively moves it to a relaxed state.
This mask will totally block out all unwanted external light allowing you to more easily get to sleep, stay asleep and enjoy higher quality sleep.
Recessed eyepieces block out all outside light and allow the eyes to blink normally. Great for travellers too as eye-makeup won't smudge and you won't wake up with a sleep-mask pattern on your face
Switch off your mind and return to a Natural Sleep
It features a precise brightness and dimming control: ramp down in 10 minutes, 20 minutes or 30 minutes.
Lightweight and Comfortable
Oasis Glo to Sleep offers a natural and drug-free solution that works with your body to encourage healthy sleep. Furthermore, regular use retrains your mind to enable you to easily return to a deep, natural and restorative sleep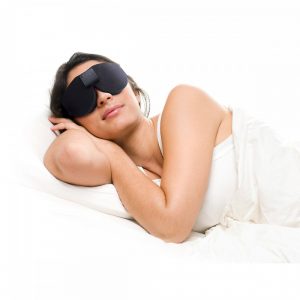 How to use the Deluxe Glo to Sleep?
Step 1:
Adjust the brightness with one of the 3 auto dim options:
– ramp down in 10 minutes
– ramp down in 20 minutes
– ramp down in 30 minutes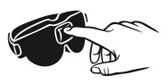 Step 2:
Settle into a comfortable sleeping position, adjusting your Glo to Sleep mask position as necessary so you can see the four points of Glo and no external light. Align the Glo to Sleep to see four Points of Glo and relax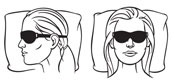 Step 3:
Look up at the points of Glo (the highest points of Glo that you can). Use a relaxed gaze. You may blink.

Step 4:
Take long, abdominal breaths. Let everything else relax while you inhale all the way and your lungs fill with air as your belly extends outward. Then exhale slowly and squeeze everything out of your lungs. Wait a few seconds and repeat this cycle.
Breathe IN – 1… 2… 3… 4…Breathe OUT – 1… 2… 3… 4…Keep your eyes open, looking up at a point of Glo.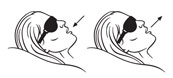 Deluxe Glo to Sleep Therapy Mask Specifications:
Unique, lightweight, breathable foam means that the mask is feather-light when worn and comfortable to wear all night long
A soft adjustable Velcro® strap fits all head sizes
Made with hypoallergenic foam
Try the Glo to Sleep Deluxe Sleep Mask tonight because who doesn't deserve a good night sleep!