Description
The Dreamer Sleep Mask is a long-time favorite of many Dream Essentials customers; liked for its style, comfort, and its excellent ability to block light.
The unique raised and padded bottom rim design (called a nose roll) of the Dreamer Sleep Mask provides total comfort & allows it to block out the light with minimal pressure on your eyes.
The soft padded fabric that rests gently over the eye area is 100% fully breathable cotton.
The Dreamer Patterned Eye Mask shares all the features of the ever-popular Dreamer Eye Mask but with bright, stylish, fun prints!
Being hand made, plush, fully breathable with a 100% cotton interlock padding makes this one of the best sleep masks on the market.
Perfect for day sleeps, travel, or getting that extra couple of hours sleep once the sun comes up.
Features
Extra cheek and nose padding asserts minimal pressure on eyes and sinuses as well as blocking out extra light
Mask secures around head with silky sheer Comfort Snug band
Ultra-comfortable with soft cotton touching the face
Comes with free pair of foam earplugs
Inside of Mask
The fabric which rests over the eye area and on the face is plush, fully breathable, 100% cotton interlock padding which cushions the eyes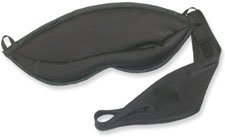 Outside of Mask
The fabric on the outside of the mask does not make contact with the face; it simply defines the look and feel of the mask. We suggest choosing a colour that you feel comfortable wearing
Mask Fastener
Mask secures around the head with Comfort Snug, a revolutionary, ultra-thin, adjustable harness.
Care
Hand wash in cool water with mild detergent
Lay flat to dry
What are others saying?
"I love this mask! I've bought several (usually 2 a year) and can't sleep without it. I'm a side sleeper and I find it does very little moving thanks to the strap. I especially like that this is machine washable as I have oily skin, so its easy to clean. As long as this mask is produced, I will keep buying them." Vicki…
"I love, love, love my Dream Essential Sleep Masks. I began using them several years ago for travel, which made time shifting to distance time zones so much easier, and allowed me to sleep through lights on, or daylight. I have been using them for daily sleep at home ever since, easily blocking out all of the ambient natural and electronic light sources. This is my all-time favourite; I like the cushion around the edges for comfort and suspending the mask away from the eyelid, as well as the broad, soft, stretchable band. I have made a gift of this mask to friends and family, night shift workers, and friends who live in the far north of the northern hemisphere and have 16 hours of daylight at certain times of year." Lora…
"This mask has changed my life! I suffer with Chronic Migraine headaches everyday. This mask is the only one that I have tried that is comfortable, light blocking and doesn't put any additional pressure on my head because of the wide and adjustable band. What a great design. Thank you for this great sleep mask!" Pamela… 
"For at least the past two years, I have been using a Dream Essentials sleep mask that I have been very happy with. Recently I recommended it to my boyfriend, who has just gone on a second shift and needs a sleep mask for the morning when the sun comes up. When I went to order it, I discovered it has been discontinued. I decided – after much emailing back and forth with customer service – to order the Dreamer for both of us. WOW!! If I thought the other sleep mask was great, the Dreamer is absolutely incredible! The fabric is so comfortable, the sleep mask is much thicker, and it stays in place much better with the new Comfort Snug head band, keeping out the light even better. I cannot rave enough about this sleep mask! I have only used it for a couple of nights, and I am already going to order another one. I got the Summer Butterflies, and it is beautiful as well as incredibly functional." Carol…