Description
With these pillow speakers from Sound Oasis, you can listen to your favourite music without disturbing your partner or others in the household, and enjoy a fantastic night's sleep. These speakers require no power or batteries, so there are no worries about tangled cords or the battery dying during the night—the speakers run directly off your music player.
Drift away in comfort to your favourite sounds
Transform your favourite pillow into a soothing sleep station with the Sound Oasis Sleep Therapy Pillow Speakers. These slim profile speakers, which include an in-line volume control located conveniently on the cord, slip easily inside your pillowcase. So you can listen to your preferred music or sounds without resorting to uncomfortable headphones or ear buds.
Sleep therapy with built-in convenience
Sound Oasis Sleep Therapy Pillow Speakers are equipped with a standard 3.5mm plug which fits most devices, including iPods, MP3 players, radios, CD players, televisions, and Sound Oasis Sound Therapy Systems. You can also buy 3.5mm – smart phone adaptors.
Two pillow speakers mean that as you roll from sleeping on one side/ear to the other – you do not need to the shift pillow speaker.  There is one to position directly under each ear on each side of the pillow!
Unlimited sound environment possibilities!
Turn any pillow into a Sleep Therapy Pillow with our ultra-thin stereo speakers-now with inline volume control. Simply place under your existing pillow and enjoy your favourite music or sounds for optimal relaxation and comfort. Use with standard or king size pillows. Use with CD players, iPods, iPhones, iPads, most MP3 players and TVs. 73″ long cord. Does not require batteries or power.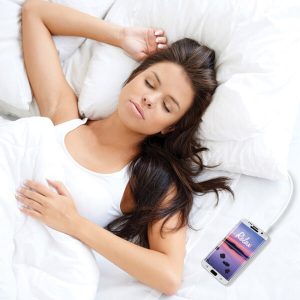 Customize your sleep experience
These pillow speakers are ideal for:
Children, who can listen to their favourite music or audio books—an excellent tool for learning foreign languages
Teenagers, to enjoy their own music without disturbing others
Insomniacs, for playing light music or nature sounds to help relax them to sleep
People of all ages seeking to relax and relieve tension and stress
Enjoy the high-quality sound of your own private Sound Oasis Sleep Therapy Pillow Speakers every night!
Product Features
2 Stereo Speakers
Super thin design for comfortable use, you won't even know they are there.
Convenient volume control located on the cord
High quality stereo sound.
3.5 mm plug fits most electronic devices including Smart Phones, iPods/MP3 players, CD Players, TVs, etc.
No batteries required!
Great For Tinnitus Sufferers
SOUND AND MUSIC CAN HELP IMPROVE SLEEP, EFFECTIVELY BLOCK UNWANTED NOISE AND MASK SOUNDS OF TINNITUS.