Tired of not getting a night of good sleep when travelling? Can't sleep when flying? Give yourself the best chances of arriving relaxed and refreshed at your destination.
A Sleep Mask to block out the light, a travel pillow to support your head and travel ear plugs to relieve troublesome pressure on the eardrums when taking off or landing as well as blocking out the plane's annoying noises.
The Escape Travel Sleep Mask features a soft cushioned eye chamber to ensure that there is no pressure on the eyes, which provides optimum comfort, unlike the flimsy, mass-produced, cheaper quality Eye Masks on the market today.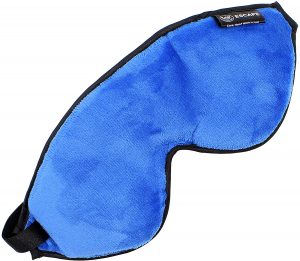 2. Plush Travel Pillow
The Dream Essentials Travel Flat Pack Neck Pillow is a very easy to use inflatable neck pillow with a washable cover made of soft plush materials that will add an extra layer of cosy feeling when used against your skin.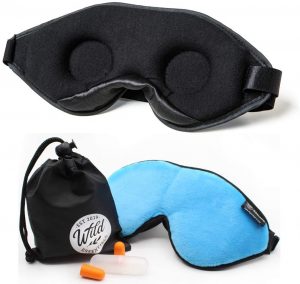 3. Earplugs for Flying
Wearing FlyFit earplugs during flying regulates troublesome pressure on the eardrums during takeoff and landing when flying.
The filters operate like valves and ensure gradual and constant pressure equilibrium between the external environment and the middle ear. Thus, the Eustachian tube has sufficient time to acclimatise to pressure variations. By regulating the flow of air in the outer ear, the inner ear has more time to adjust and the pain and pressure accompanying altitude changes are greatly reduced.
In addition, the special acoustic filters in FlyFit earplugs offer protection against annoying noises during flight.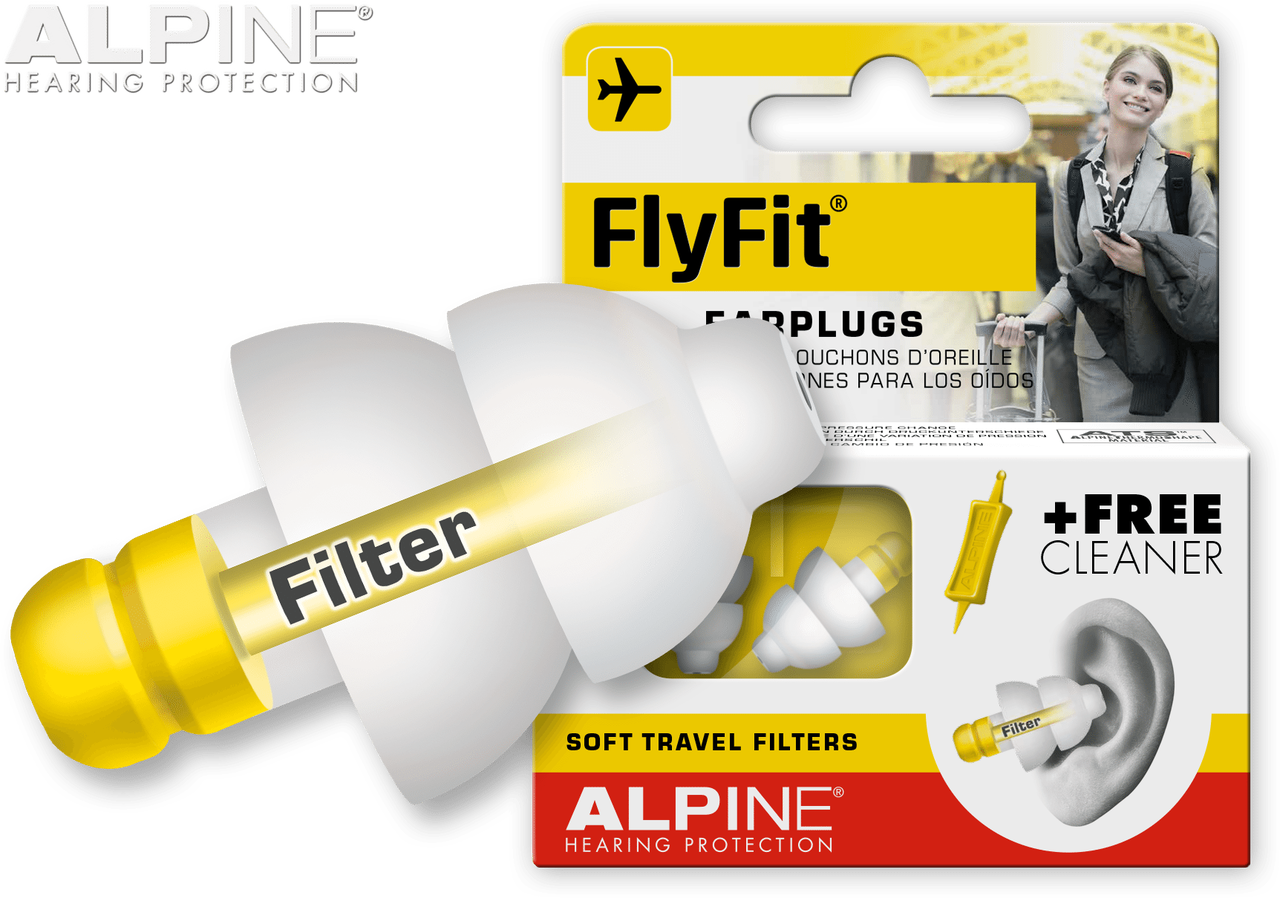 Luxurious Sleep Mask.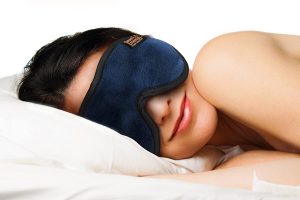 Contoured and Sleek
This beautiful mask gives the wearer the ultimate in comfort while still maintaining 100% light block out.
Makes for the ideal travel companion. Simply fold the mask away in the compact carry pouch provided, slip it inside your carry on luggage, and you are set to travel in peace and quiet without disruption from fellow travellers.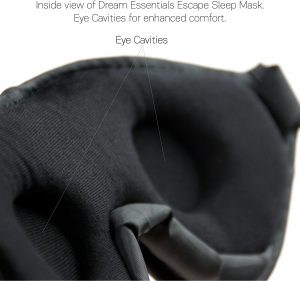 100% light blocking
Contoured Mask features an interior eye chamber for added comfort
Ultra-comfortable using natural cotton for sensitive facial skin
Quality Handmade Mask
Patented Soft Comfort Bridge™
FREE Carry Pouch
Earplugs for Flying & Travelling
When inserted into the ear canal, the dual-flange silicone Alpine Thermo Shape (ATS™) material softens as it warms and adapts to the shape of your ear duct. This makes Alpine Flyfit Earplugs for flying extremely comfortable to wear for long periods of time.
Inserting FlyFit before ascent or descent will greatly reduce the possibility of ear pain caused by pressure change.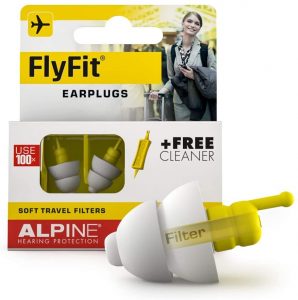 Dream Essentials Travel Flat Pack Neck Pillow
Do you like to travel light? Here is the perfect combination of space-saving and comfort. Tired of not getting a night of good sleep when travelling? Can't sleep when flying? Do you wake up with a stiff neck?
The Dream Essentials Travel Flat Pack Neck Pillow is a very easy to use inflatable neck pillow with a washable cover made of soft plush materials that will add an extra layer of cosy feeling when used against your skin.
Features

Easy to inflate with only a couple of breaths, which allows you to effortlessly adjust the pressure depending on your preference.
Supports your neck while you travel, arrive better rested
Perfect for trips where you or your kids will spend large periods of time in a seating position.
Washable easy to remove cover made of soft plush material in different colours.
Contoured shape provides maximum comfort
Super compact design will travel deflated in any small space.
Uses

Perfect for all travelling in planes, trains or cars.
Ideal for long distances or overnight travellers.
An affordable and compact solution to add comfort to kids while travelling.
Fantastic for aeroplane trips.
Perfect for road trips by car or train.
Recommended for hiking, backpacking or camping.
Ever woken on a stranger's shoulder when travelling?
Argh… eek how embarrassing… I know I've been there…
Our soft, inflatable neck pillow will prevent this from happening, and you will no longer wake up with a stiff neck.
Do you snore when you travel?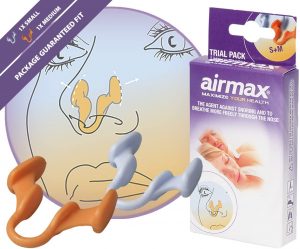 So many people fear flying/travelling because they are troubled by the likelihood that they will snore when they fall asleep.
When we fall asleep sitting up, our head falls back, which often causes the tongue to also falls back and block our airway. By using a travel pillow your head remains in a more upright position or alternatively, comfortably rests to the right or left side. This enables an unrestricted airflow, lessening the likelihood of embarrassment by upsetting your fellow travellers with your snoring.
The tongue often falls back and blocks the airway, but this is less likely to occur if you are sitting up.
Snoring occurs when your airway becomes obstructed. Often by simply opening the nasal passage and allowing air to flow alleviates snoring. Our Macks Nasal Breathing devices for snoring work a treat!
Sleep Peacefully on your Travels
Travelling can be tiring, especially if you're on a long-haul flight. Being able to sleep in a noisy plane or a hotel room is invaluable and something not to be underestimated whilst travelling.
However, it can be difficult to get the rest you need. Planes are a constant hive of activity, with the chatter of the surrounding passengers, the movements of the flight attendants, bored children, and a sea of mobile devices performing a thousand different functions. It's not exactly the ideal environment for getting some much-needed shut-eye. That's why earplugs can help alleviate tiredness and jet lag whilst travelling.
When you're at home, you're able to create an atmosphere of darkness and quiet that is conducive to sleep. This is what you need to try and replicate while you're travelling, which is why the right equipment is essential. 
Bupa Travel Insurance Australia nominated Alpine FlyFit ear plugs for the article, 'Survive a Long Flight with These Top Travel Accessories'.
As we told Bupa, 'for those who are sensitive to the pressure changes or who experience ear pain when flying, Alpine FlyFit ear plugs are a great solution. They are comfortable enough to wear the entire flight, totally reusable, and will easily fit within your carry-on.'
Unique ergonomic design provides you with proper support on the go.
Helps to prevent tension and strain in the neck and shoulders so that you arrive at your destination more comfortable and relaxed.
Special bolsters prevent your head from swaying from side to side and support your head and neck in a more comfortable upright position. Inflates in seconds and easily deflates for compact storage in its own pouch.
Made with comfortable, soft plush material, it is flexible and fits most necks.