Introducing the world's first truly wireless high-fidelity earplugs with endless battery! Plugfones Sovereign Audio Earplugs offer hearing protection and true wireless noise isolating audio sound.
Safety proven noise isolation with 24 hr BATTERY!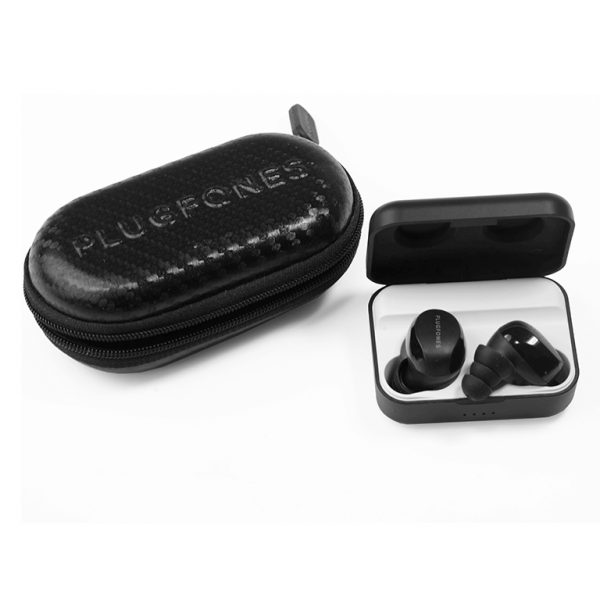 Whether you're out all day or up all night, these earplugs will keep you connected to your sound. Plus, with 2 sets of earbuds and interchangeable pairing, you never have to run out of sound.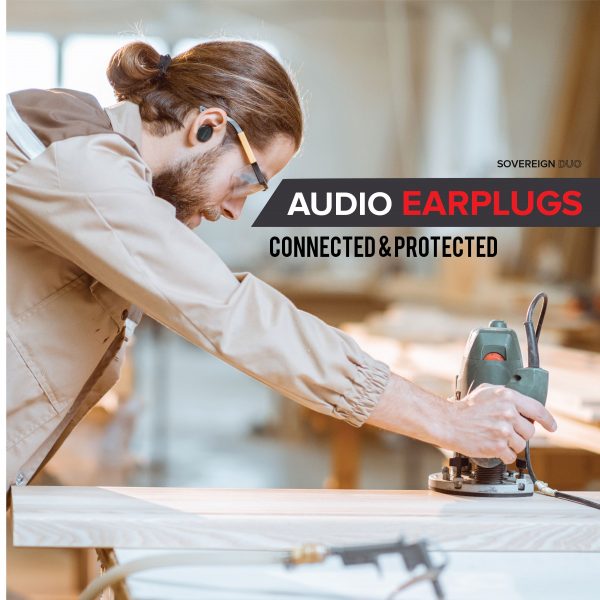 • True wireless technology – 4 total buds – 2 sets included Obsidian and Lava
• ANSI-certified 22 dB NRR
• OSHA-compliant hearing protection
• Patented Never out battery – Use one, charge one for over 40 hrs of continuous play
• High Fidelity Sound with Immersive Bass
• Charging case included for charges on the go
• IP45 dust, sweat, and water resistance
• Noise-isolating mic – Hear the user not the distractions
• Bluetooth 5.0
• Small/Med/Large Earbuds included
• Quick Charge System – Included Power C adaptor
• Siri/Google Voice compatible
Sovereign Pack Includes
• Two Sovereign Wireless Earbuds (1 Pair) Obsidian Black Set
• Charging Case
• USB-C Charging Cable
• ComforTiered Plugs Small/Med/Large Earbuds
•  Zippered Storage Case
•  Instruction Guide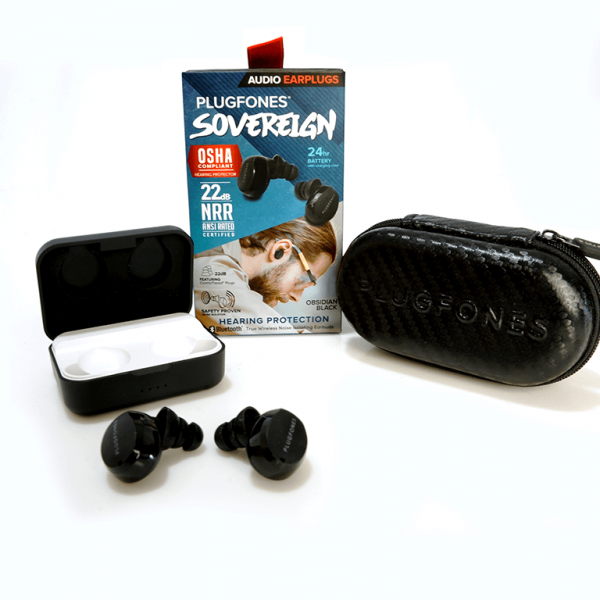 Also available in Sovereign DUO TWO PACK!
Two sets of earbuds, so you can charge one set while using the other.
The Sovereign Duo includes two complete sets of wireless earplugs, so you can interchange between the two for infinite talk, music, and play.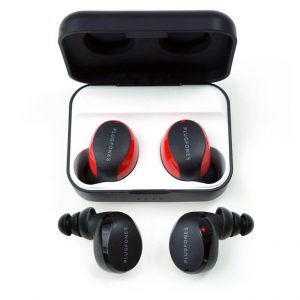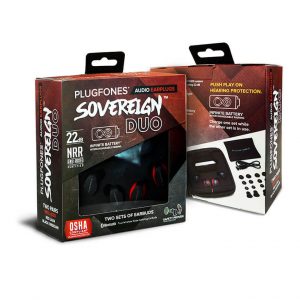 Sovereign DUO Pack Includes:
• 2 x SOVEREIGN Duo Wireless Earbuds (1 Pair) Obsidian Black Set
• 2 x SOVEREIGN Duo Wireless Earbuds (1 Pair) Lava
• Zippered Case
• Charging Hardcase
• USB-C Case Charging Cable
• Small/Med/Large Earbuds
• Plugfones ComforTiered Earplug
• Pocket Case
• Instruction Guide
BIG SOUND
IMMERSIVE BASS
When Sovereign Duo's sound waves are delivered directly into the ear drum dampening surrounding noise with it's patented ComforTiered plugs, the listening experience is immersive and complete. No note is missed, every piece of the song rings true with clear treble and deep bass.
SOVEREIGN TECH THAT RULES
Noise Shield
Sensor dampens machinery and exterior noise
Stay In Place
Lightweight – won't fall out, secure, comfortable fit.
Quick Charge Mega Batter
Mega Battery (Earbuds 6 hours + Case 18 hours + Earbuds 6 – 30 hours)
IPX Rated
Water-resistant, sweat proof
Sound Seal
The Plugfones Sovereign Earbuds have custom ComforTierred plugs that contours to the ear canal and provide a NRR Rating 22 dB
Adaptive Response
Works even when wearing gloves
MIC
Sound focused mic
SAFETY
Plugfones Certified Noise Reduction Ratings
The most important thing to remember about Plugfones is that they're earplugs first and earbuds second. As such, the entire Plugfones line is tested and compliant with ANSI S3.19-1974 noise reduction standards and meets NIOSH criteria. When used as directed, our products are certified for Noise Reduction Ratings (NRR) of up to 29 dB, depending on the plugs used. For environments with high levels of noise, it may be necessary to use over ear protection such as earmuffs in conjunction with Plugfones products.
ComforTiered Silicone Plug
Single Tier Silicone Plug
Single Tier Foam Plug
Plugfones have been independently tested to meet U.S., E.U., and Australian standards. 
https://fb.watch/anuDZ8m93i/
Infinite Battery
Battery that never runs out
Sovereign DUO Includes
• Four Sovereign Wireless (2 Pairs) Lava Red Sovereign Set and Obsidian Black Set
• Charging Case
•  USB-C Charging Cable
•  2 Pair ComforTiered Plugs Small/Med/Large Earbuds
•  4 Small Single Tiered Plugs
•  4 Medium Single Tiered Plugs
•  4 Large Single Tiered Plugs
•  Zippered Storage Case
•  Pocket Case
•  Instruction Guide