The high-quality acoustic filters in PartyPlugs hearing protection reduce the volume of music to a safe level. Your music experience, as well as the sound quality of the music, remains very good. Naturally, you can keep talking to your friends. By wearing PartyPlug earplugs when you go out, you prevent that irritating high pitch noise in your ears. Besides, the earplugs are barely visible thanks to the unique transparent filters.
Earplugs for Festivals, Parties and Concerts & More…
Concerts

Parties

Nightclubs

Pubs

Musicians and roadies

Music Teachers and music students

DJ's

Film and TV production staff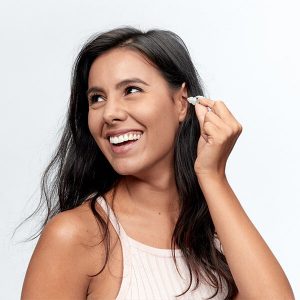 No More Ringing in Your Ears
The music experience and the quality of the music remain excellent and you will still be able to talk to people.
Had a great night out at a concert, nightclub or party but you still have a ringing in your ears? This is called Tinnitus. Next time why not try Alpine PartyPlug?
The patented open duct filters will keep music or noise at a safe level but still allow you to hear music or conversations without loss of clarity.
Features:
Super Comfortable – Dual-flange silicone Alpine Thermo Shape (ATS™) material, when inserted inside ear canal, softens as it warms and adapts to the shape of your ear duct. This makes them extremely comfortable to wear for long periods of time

100% of Music Quality

Transparent – Hardly visible in the ear

Open duct filters will let you hear music without loss of clarity.

Can be trimmed to size so it does not protrude from the ear (see instructions inside the pack for details)

Durable storage case for earplugs and filters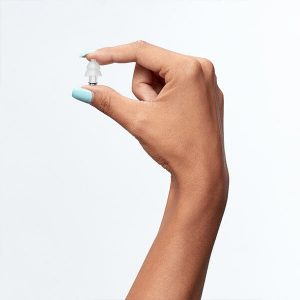 Revolutionary Earplug Model
Twenty years of experience have allowed Alpine to develop a revolutionary new earplug model with a noise filter, that filters out damaging sounds. The extremely well thought-out and extensively tested shape of the earplugs provides a perfect fit.
Conversations can still be heard
Perfect fit because of soft AlpineThermoShape™ material
No silicone
Alpine Miniboxx to take your earplugs anywhere and anytime
Hardly visible in the ear
Reusable

AlpineThermoShape™ Material – Very Comfortable
PartyPlug hearing protectors are made of special AlpineThermoShape material. This material adapts to the shape of the ears so that you always have the perfect level of noise attenuation. They are also very comfortable to wear.
There is no sense of isolation or external pressure on your ears. AlpineThermoShape is hypoallergenic. This means you will not experience itching in or around your ears, as is often the case with silicone earplugs: you can wear Alpine PartyPlugs the entire night.
Choose your Own Colour
You want to look good when you go out and you do not want your earplugs to be visible to everyone from a distance. You set a good example and you are proud of this. Just as well Alpine has ensured the earplugs are barely visible in your ears thanks to the transparent filters.
PartyPlug earplugs are available in four colours:
Barely Visible Transparent
Trendy Black
Glossy Silver Grey, or
Bright White.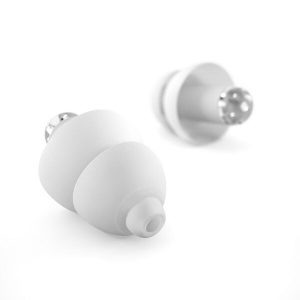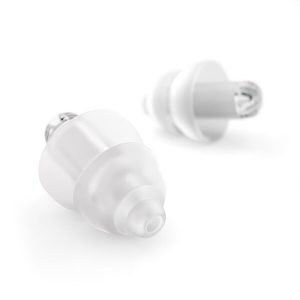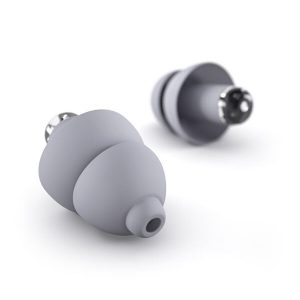 Packaging contents
Two universal thermoplastic hearing protectors
Two acoustic filters
Alpine Miniboxx
Plastic carrying case
Alpine insertion sleeve
Alpine Miniboxx
In addition to a practical storage container, every PartyPlug pack also contains an easy to use Alpine Miniboxx. You can take this ideal mini storage container with you when you go out and you can open it with one hand (while holding a pint in the other…). The Miniboxx easily fits into your trouser pocket, handbag, bra, or sock.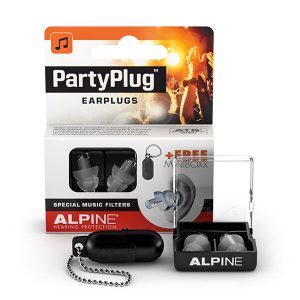 Lifespan and cleaning
The lifespan of the earplugs depends on the frequency of use. Keeping the earplugs clean will extend the lifespan. The earplugs can be cleaned with lukewarm water and soap.
Dutch Design
The design of the Alpine hearing protectors is an exclusive Dutch Design. All earplugs and filter systems are produced in the Netherlands.
Attenuation values Alpine PartyPlug
| | | | | | | | | |
| --- | --- | --- | --- | --- | --- | --- | --- | --- |
| Frequency Hz | 63 | 125 | 250 | 500 | 1000 | 2000 | 4000 | 8000 |
| Mean Attenuation dB | 8,8 | 10,3 | 13,2 | 16,6 | 20,6 | 25,4 | 25,2 | 19,2 |
| Standard Deviation dB | 4,4 | 3,3 | 3,0 | 2,4 | 2,8 | 3,0 | 5,0 | 4,1 |
| Assumed Protection in dB (APV) | 4,4 | 7,0 | 10,2 | 14,2 | 17,8 | 22,4 | 20,2 | 15,1 |
EN 352-2: 2002 compliant
Nominal diameter: 9-12 mm
H=19 M=17 L=12
SNR=19
NRR=16,5-21,5
PartyPlug earplugs absorb loud music and prevent ringing ears when going out, during concerts, festivals and other music events.