Description
Want a sleep mask that fits perfectly to the shape of your face and provides ultimate comfort and total light blocking ability? Look no further than this eye mask!
WHAT ARE YOU LOOKING FOR IN A SLEEP MASK?
This super smooth and light sleep mask has been touted by many as the "best contoured sleep mask" around and it is easy to see why.
The Contoured Sleep Mask sits so light on your face, as light as a feather, that you'll hardly notice that you are wearing it. The contoured design allows the mask to sit well away from the eyes and eyelashes allowing you to comfortably open and close your eyes with ease.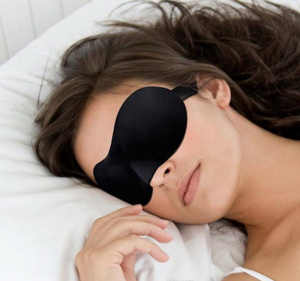 SEEKING REST & RELAXTION?
Looking for total relief from light for sleep or relaxation, the super light Contoured Sleep Mask is for you.
Manufactured with a soft wide, fully adjustable velcro head strap. The thicker band ensures maximum comfort and safeguards the sleep mask from slipping off your face through the night.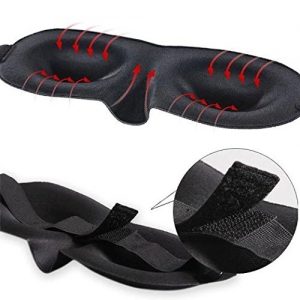 SUPER SLEEK – Ultra Thin & Lightweight – Won't lose its shape

STYLISH DESIGN – Patent Design – Ideal for traveling BLOCKS ALL LIGHT – Completely!

PERFECT FIT – Shapes wonderfully to the face and eyes

SOFT WIDE ADJUSTABLE BAND – Maintains the Sleep Mask stays put throughout the night.

TOTAL COMFORT – Perfect for relaxing day or night

AWESOME CONTOURED SHAPE – Lots of room for the eyes and eyelashes to move freely.

TRENDY NEW COLOUR – Available in Black& now Aqua!

PERFECT FOR MEN AND WOMEN 
FITS ALL FACE & NOSE SHAPES…
It has been formed to mold faultlessly around the shape of the eyes cut up and over the highest point of the bridge of the nose. For those that do not like the feel of a mask resting across the bridge of your nose this is the mask for you.
People with a larger nose prefer the shape of this contoured mask as it forms the perfect shape close to the eyes and face, providing perfect block out.  People with a larger nose find that this mask does not get pushed away from the face and the lower eye area like other masks can that form across the lower bridge of the nose area.
TRAVELLING?
Whether you are travelling near or far, the Contoured Sleep Masks is the perfect travel companion. Its design is so thin and light it can easily be tucked into your carry on luggage or even in your pocket for easy access.
The light moulded closed cell foam material that this mask has been shaped from ensures that your face is left mark free so that when you jump off the plane you can head straight to your meeting having to worry about embarrassing indents on your face.
The contoured design makes for the perfect mask for women when travelling to guarantee that your eye make up stays just where you want it!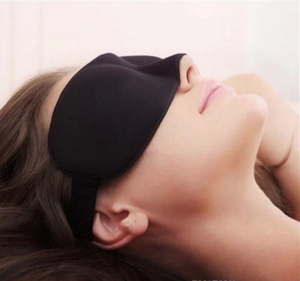 YES IT REALLY DOES BLOCK OUT THE LIGHT!
This ultra smooth, super lightweight mask totally blocks out all light!
THIS MASK TICKS ALL THE RIGHT BOXES NOT TO MENTION THE AWESOME PRICE, TRY IT TODAY!