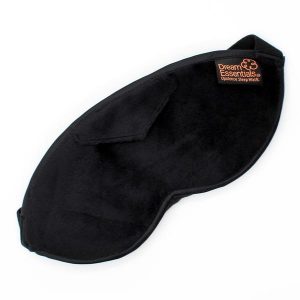 Silky Soft and 100% Light Blockout
It is very similar to our Dreamer Sleep Mask in design but slightly more padded, with a soft, smooth outer fabric. Designed with travelling in mind, this mask also has been created with a very convenient built-in pocket for handy storage of your ear plugs. It makes for the perfect travelling companion when away from home.
Crafted with a wide soft elastic band, this mask can easily fit all faces with a simple adjustment to the velcro strap. Some people like sleep masks to sit lighter on the face, whilst others prefer them to fit firmer – particularly people who sleep on their sides.
Like all of our quality sleeps masks we have designed the Opulence to sit away from the eye area. The super-soft, 100% cotton interlocking cushioning sits comfortably across the bridge of the nose and follows the line underneath the eyes. This design ensures that no pressure is felt in the eye area. The inner fabric of the sleep mask, which rests over the eyes and face, features soft black material, also 100% cotton, to ensure great light block out.
Hand made as always with quality and comfort in mind, the Opulence Luxury Sleep Mask ticks all the right boxes for a remarkable night's sleep!
A must-try today, for the perfect sleep tonight!
What a PERFECT GIFT IDEA!
Simply choose the gift box option to complete the finishing touches for the ideal present for your loved one!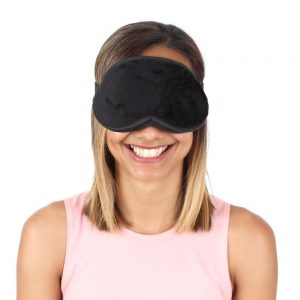 Here's what others have said:
"I have tried many expensive sleep masks over the years and Opulence, Escape and Infinity are my three favourites. Opulence gives 100% light blockage (i.e., total blackness) even for daytime naps, it's extremely comfortable to wear, and it stays in place all night long.
One thing to be aware of is that Opulence is a bit thicker and bulkier than Escape/Infinity, which makes it heavier to wear, and gives it the potential to be a bit hot in the warmer months. However, on the plus side, it is unbelievably soft and comfortable to wear. Opulence also lacks the cut-out eye cavities that Escape and Infinity have.
However despite this I still find there is no irritating pressure on the eyelids and I can still open my eyes and be in total darkness while the mask is on. If you're looking for a mask for travel then this is a good pick because of the earplug storage pocket. I highly recommend this mask."
"The softest mask ever. Blocks light and is very comfortable. Can't sleep without it. Durable and washes well"
"What would I do without my sleep mask?! I'm on my second one and my sister is on her third. It's super soft, comfortable, and it completely blocks the light. If I want to take a nap, it's indispensable. When I'm travelling overseas, it's just mandatory. Love this product."
Care
As with all our masks, simply hand wash and lay flat to dry.
Can you ask for better quality in a Sleep Mask than one that is hand made!