Description
Be Patriotic and show your colours with this Stars and Stripes design.
Perfect for travel overseas to show your proud patronage to your country!
Aussie, Aussie, Aussie, Oi, Oi, Oi!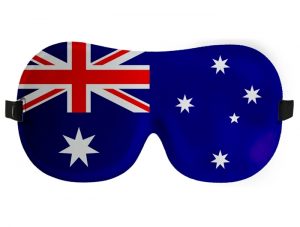 This mask features large eye cavities so as not to touch the eyes and lashes. Its hi-tech moulded design creates an excellent light blockage for complete darkness, making it a must-have for sunny rooms and sleeping areas.
The material is very light weight and the fabric breathes leaving it cool on your face.
The stretch elastic band allows for perfect size variability and durability throughout the years. Enjoy a peaceful sleep in total darkness day or night.
No need for block out curtains, which means that this block out mask is perfect for shift workers needing to get to sleep in the day when the sun is beaming into your bedroom window.
Ergonomic, Light Weight Sleep Mask
The Dreamlite Mask sits so light on your face that you will hardly know that you are wearing it.
The Flags Mask is the perfect gift for your patriotic loved ones, which is even more perfect for when you are travelling.
This is an excellent light blocking sleep mask, the large cavity area means that your eyes don't touch the fabric, which means total comfort. There's nothing worse than your eyelashes hitting against the back of a mask.
Because of this unique design, you stare into total blackness when you put this mask on.
It has a fully adjustable velcro strap sure to fit most sizes of head, the fabric is lightweight and breathable, perfect for sleeping anywhere.
A must have for anyone trying to fall asleep easier and faster, sleeping during the day, meditating, sleeping away from home, and while traveling. This mask is perfect for travel where you are upright, such as in a plane, in a car, on a train, and more. Pair perfectly with a plush neck pillow for your next flight or trip!
Or, use this mask as a blindfold for family events and games.
Features
Large Eye Cavity Area
Fully Adjustable Strap
Light weight, cool temperature on the face
Excellent Light Blocking
Washable
Strap and Inside Mask Details