One of the most popular, all-time favourite masks amongst our Sleep and Sound customers would have to be the Dreamer. Well liked for its style, comfort, and excellent ability to block light.
Named by many as the "eye pillow" the Dreamer has been tried and tested over many years & keeps our regular customers, and new, returning time again.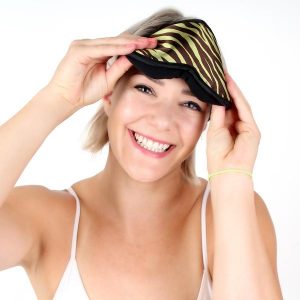 Quality Handmade Luxury
Each quality mask is handmade using plush, fully breathable, 100% cotton interlock padding and quality coloured fabrics.
The unique padded surround on the inside of the mask provides perfect block out of light and makes it one of the very best, comfortable eye masks on the market.
Dreamer Luxury Sleep Mask
The soft padded fabric that rests gently over the eye area is 100% fully breathable cotton. The Dreamer Sleep Mask is super-comfy and when fitted correctly, it will typically block 100% of light.
Delicate Design with Excellent Comfort
Whether you are looking for a travel eye mask, sleep mask or just some relaxing time out, the Dreamer will be sure to do the trick.
Sleeping Mask Main Features and Benefits
BREATHABLE – Each Quality Mask is Handmade with natural cotton
COMFORTABLE – Extremely Comfortable & No Pressure on the Eyes
LIGHT BLOCKING – Awesome 100% light blocking
TRAVEL – The Perfect Solution for Travel, Sleep, Study or Meditation
GREAT FIT – Secure, snug fit for added comfort and blocking out light.
NATURAL FABRICS- Ultra comfortable using natural cotton for sensitive facial skin
SOFT COMFORTABLE HEADBAND – Soft on the face, sheer Comfort Snug secures mask around head
FREE EARPLUGS – Comes with a free pair of foam earplugs
VARIETY – Great choice of colours to suit ladies and gents
Simple care of your eye mask by handwashing in cool to luke warm water and allowing it to dry flat will help prolong the life of your mask.
Amazing Light Blocking from a Wonderful Sleep Mask
Sleep Mask Reviews:
"I have a medical condition in which a sleep mask is crucial in helping me sleep. I've tried many other eye masks for sleeping from chemist and luggage stores, one you get on aeroplanes & even the supposed "deluxe" sleeping mask from Myer. They were ok & I always though this was as good as sleep masks got. That was until I tried ordering a sleep mask online & I bought the Dream Essentials Dreamer. Unlike the other sleep eye masks, the Dreamer is so amazingly soft & comfortable, but best of all it doesn't let any light in! It has a much wider band (which is adjustable and soft) than all others I've tried. If you are like me and really rely on a mask to sleep at night, please, buy this one, it's the best eye mask I've found. You'll be glad you did."  Paige…
"I travel a lot as a requirement for work & I would be lost without this eye mask for sleeping especially on planes. The cheaper brand travel eye masks just do not compare. I discovered this brand some years ago through a friend whilst in America, you could imagine my excitement when I found that they were being stocked locally online through Sleep Buddy. They truly do have the best range of luxury sleep masks in Australia. I've tried quite a few over the years & would definitely recommend the Dreamer, Escape Luxury Eye Mask & the Sweet Dreams Light Contoured Eye Mask."  Lachlan…
"I love, love, love the Dreamer sleep mask from Dream Essentials. It blocks out all light, doesn't push down on your nose to disrupt breathing, very soft on the face, and I sleep in all positions with it including stomach and it still stays in place. You can throw it right in the washing machine along with your regular items. The Best investment for a great nights sleep. Ahhh…I love it!"  Angela…