We offer great prices on bulk earplugs.
Our Macks Pillow Soft Earplugs are the perfect solution for Floatation Centres, Swim Schools
Our Bulk Soft Foam Earplugs are favourites with Workplaces
Floatation Centre Earplugs
Hailed the best waterproof earplugs for our float clients by many of our regular customers. Mack's original and number 1 selling mouldable silicone earplugs are now available in a convenient 200 pair bulk dispensing package. Each pair of earplugs comes in its own re-sealable package with instruction on how to wear.
Noise Induced Hearing Loss is PREVENTABLE!
Occupational noise-induced hearing loss (NIHL) is a major industrial disease in Australia and entails substantial economic costs.
Exposure to excessive noise also involves large costs to organisations by way of increased employee turnover and absenteeism, lowered performance and possible contribution to accidents.
Who does hearing loss affect?
As well as the economic cost for employers, hearing loss imposes a severe burden on health and social services and the Australian economy as a whole.
To the individual affected, the social handicaps of hearing loss are also severe.
Noised induced hearing loss is unfortunately irreversible and leads to communication difficulties, impairment of interpersonal relationships, social isolation and a very real degradation in the quality of life.

The family and others close to the affected person often experience secondary consequences of the condition.
Can hearing loss be repaired?
Quite simply and unfortunately no. Hearing aids may be of benefit in overcoming some of the problems, but normal hearing can never be fully restored. Once you have damaged your ears, the damage is irrepairable.
Of those people affected, 20 per cent or more also suffer from tinnitus (ringing in the ears), in some cases to a severe degree.
Why risk it, when you can prevent it?
The National Occupational Health and Safety Commission (NOHSC) is concerned about noise-induced hearing loss as a major occupational disease.
As such, in December 1988, the National Occupational Health and Safety Commission endorsed its strategy for the prevention of noise induced hearing lossand followed this up with the development of a national standard and code of practice.
Of which in March 1992 the National Occupational Health and Safety Commission declared the National Standard for Occupational Noise [NOHSC: 1007(1993)] and the National Code of Practice for Noise Management and Protection of Hearing at Work [NOHSC: 2009(1993)].
The national standard for exposure to noise in the occupational environment is an average daily exposure level of 85 decibels. This is consistent with overwhelming scientific evidence which indicates that exposure levels above 85 decibels represent an unacceptable risk to the hearing of those exposed.
Many other developed countries have introduced legislation based on this standard. For peak noise, the national standard is a peak sound pressure level of 140 decibels.
Employers are responsible for the protection of their staff
In 2004, NOHSC revised the National Code of Practice for Noise Management and Protection of Hearing at Work to achieve consistency with national best practice. The national code of practice provides practical guidance on how the national standard can be achieved and is intended to assist employers, employees, unions, management, health and safety committee representatives, safety officers, occupational health and safety professionals and others requiring guidance on understanding and reducing exposure to workplace noise.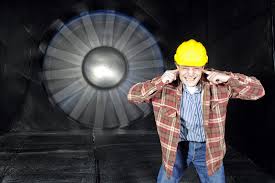 The levels specified in the national standard are the maximum acceptable exposure levels for noise in the workplace. However, over long periods, repeated exposure to noise between 75 and 85 decibels may be a small risk to some people.
With progressively increasing levels, the risk becomes greater. Workplace noise levels lower than 85 decibels are, therefore, desirable and recommended.
HEARING PROTECTION IS SO AFFORDABLE
Theres no excuse…
Protect your ears today so that you can still hear tomorrow!